My Old Friend John Olsen
23 May 2023
211 views
No Comment
Final portrait of an artist and old friend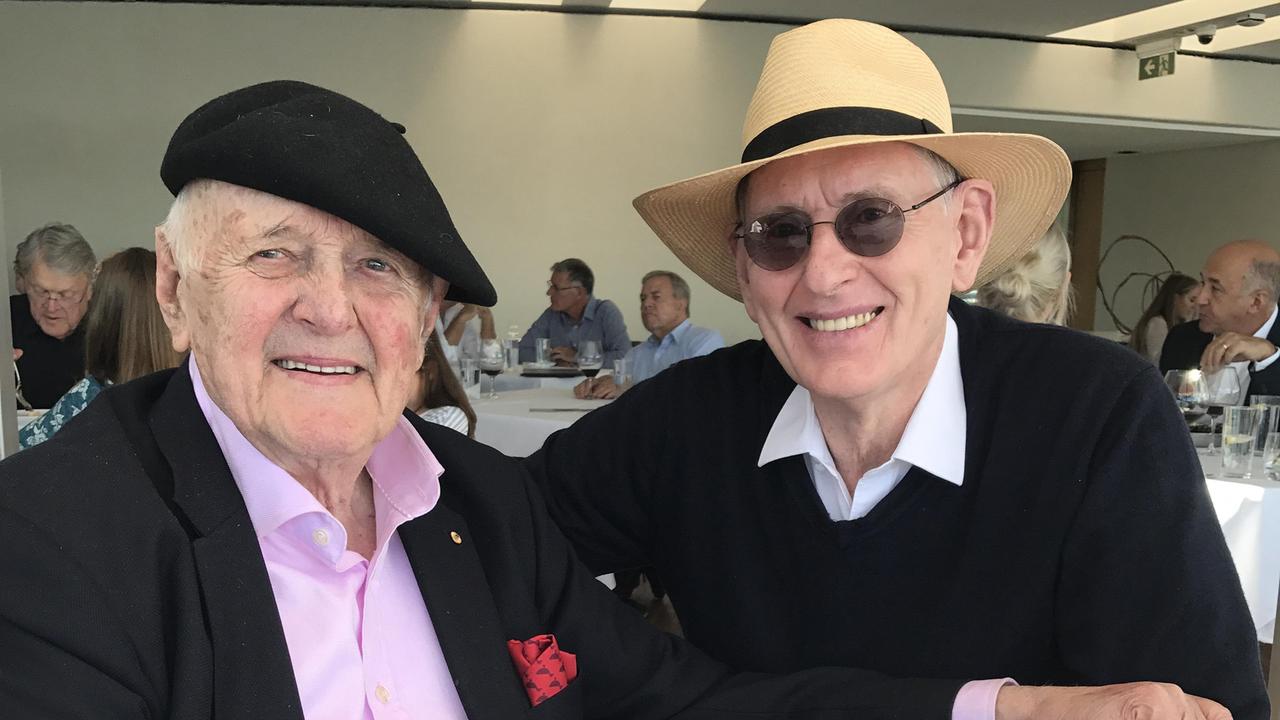 The legendary Australian artist John Olsen with history professor and old friend Ross Fitzgerald. Photo by Tim Olsen.
A state memorial for my friend, the great Australian artist John Olsen, will be held on May 29 at the Art Gallery of NSW in Sydney.
Olsen told me last year that he hoped to die like Pierre-Auguste Renoir, who on his last day painted his final picture, put down the brushes, sighed and said: "I think I'm beginning to learn something now."
I am pleased to report this was exactly how Olsen departed, finishing a final picture before taking a nap and dying in his sleep on April 11.
During the sound and light festival Vivid Sydney, which begins on Friday, Olsen's art will be celebrated on the sails of the Opera House, which is home to his vast mural My Salute to Five Bells.
In his bestselling memoir, Son of the Brush, his son, art gallery owner Tim Olsen, recounts that his earliest memories are of John's studio in Watsons Bay, at the mouth of Sydney Harbour: "It was there as a small child that I was dwarfed by canvases which loomed like vast apostles, and I can still smell the gum turpentine, feel the spent tubes beneath my bare feet, see the scraped palettes, the oil-stained rags, the uncorked bottle, a smock hanging in the corner and the unfinished glass of red above the fireplace – a salute to the night before."
Often down at the local pub before it opened, lining up to meet the fisherman bringing in the last catch of the day to cook for his family, John mixed earthly pleasures with worldly company.
The latter included Sidney Nolan, Arthur Boyd, Scottish artist Alan Davie and British actor Patrick Macnee, best known to Australians as Steed in 1960s British television series The Avengers.
He also had a strong rapport with British author and politician Lord Alistair McAlpine, a confidant of Margaret Thatcher. They often spent time together in Broome on the West Australian coast, where McAlpine sometimes lived.
Olsen's 2005 award-winning Self-portrait Janus-faced, attests to his two distinct personas. The first is the public identity: the gregarious host, the inspired teacher, the paella master flinging saffron, bons mots and rare pigment into the void, the Zen calligrapher inventing his frenetic lexicon of line.
Less well known is the introspective Olsen who thrived in the solitude of the studio, where each evening he documented the day in his rambling art journal, and also when he was alone in the bush in private thought.
An obsessive and prolific artist, Olsen once said that whether it be running a restaurant, conducting a relationship or working in the studio: "If you haven't got the feeling right, just forget it."
With honours and acknowledgments also came the transient tastes of new generations. Olsen was baffled by the new avant-garde and proliferation of postmodern artists. Throughout his long career many fickle critics adjudicated that his work was out of fashion. But his market never waned.
His work has a strong (if little understood) performative streak and what can best be described as joie de vivre. Much of his art is intensely physical, full of unplanned outbursts. The intensity within his work he sustained until the end.
Olsen's art ranges from massive interior landscapes to reedy riverbeds, to the chaotic splendour of his own kitchen.
His work draws from real places, but they are not mere depictions. Having sketched and taken notes while deep in the Australian landscape, Olsen brought into his studio the spirit of place that imbued his huge canvases.
Olsen's work deals with neither abstraction nor literal accuracy. One of his mantras was "memory is a powerful thing". This applied to his own memories and what he termed "the collective dream of the interior", as in the bush.
As with the cubism of Pablo Picasso and Georges Braque, where a two-dimensional painting created a multidimensional experience of looking at an object from many angles at once, Olsen believed a country as vast as Australia could not be experienced from a merely earthbound perspective. He would put himself above the landscape, and below, creating a simultaneous vision that enabled viewers to find themselves anywhere in the work.
Despite their age difference, a friendship in Majorca with English poet, novelist and classical scholar Robert Graves in the 1950s set Olsen on an artistic path that lasted more than six decades. He never forgot the writer's remark: "Olsen, you can paint pretty pictures all your life, but without metaphor you have nothing."
Impressed by Olsen's youthful exuberance, Graves admonished him that artistic growth must be matched by literary development. This resonated with Olsen when he left the island. Hence, when returning to live and paint in Australia, he embraced the work of William Yeats, Federico Garcia Lorca and Gerard Manley Hopkins. These fine poets Olsen avidly read until he died, aged 95 at home in the NSW southern highlands last month.
Given his status as one of the greatest Australian evocative painters, I'm baffled (as was Lord McAlpine) why, unlike other Antipodean moderns, Olsen has been overlooked by the Tate Gallery in London. This glaring omission surely should be remedied.
Olsen's closest friend was Barry Humphries, who died in Sydney on April 22, aged 89.
Humphries told me if Olsen predeceased him, he hoped to deliver the eulogy at the funeral. Unfortunately, because Humphries was ill in hospital at that time, he could not.
John Olsen is survived by Tim Olsen; his daughter, artist and designer Louise Olsen; and four grandchildren.
As Tim Olsen rightly said of this wonderful Australian artist: "John Olsen carved the path, but he also stayed the course."
Ross Fitzgerald is emeritus professor of history and politics at Griffith University. His most recent books, published by Hybrid, are a memoir, Fifty Years Sober: An Alcoholic's Journey, and the co-authored Grafton Everest political satire The Lowest Depths, in which Russia's odious president for life Vladimir Putrid is assassinated.