Fiction Pick of The Week
30 December 2021
73 views
No Comment
The Sydney Morning Herald & The Age
FICTION PICK OF THE WEEK
The Lowest Depths
Ross Fitzgerald & Ian McFadyen, Hybrid, $24.99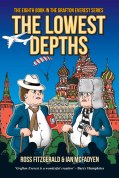 reviewed by Cameron Woodhead
Riffing off The Lower Depths – the Maxim Gorky play about being down and out in Russia – the latest Grafton Everest novel sees our mock-hero on assignment in Moscow.
This time, Grafton's breathless incompetence is required by the United Nations. His mission? To expose electoral fraud in Russia. He does have an ulterior motive – he's found a decades-old letter from his mother to someone in the Soviet Union, suggesting that he may not be an only child after all.
As usual, Grafton arses his way through international espionage and political skulduggery he is ill-equipped to handle, and the hunt for his mystery sibling leads him deep into the wilds of Siberia, where a link to the dark and tangled web of Russian history awaits.
Ross Fitzgerald teams up with comic writer Ian McFadyen for a free-wheeling mix of academic satire and political lampoon.
Sydney Morning Herald & The (Melbourne) Age, December 18-19, 2021, Spectrum, review, Books pp 11.
The Booklist is a weekly newsletter for book lovers from books editor Jason Steger.